FREE U.S. SHIPPING ON ONLINE ORDERS!*
FREE U.S. SHIPPING ON ONLINE ORDERS!*
ProMariner Battery Chargers There are 49 products.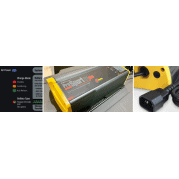 ProMariner Battery Chargers - ProMariner was founded over 40 years ago with one premise; to make boating more enjoyable! ProMariner Battery Chargers are

cost-effective chargers for all boats, whether open water cruising, sailing, salt water sport fishing, recreational boating, or bass and walleye tournament fishing.
ProMariner Battery Charger FAQs
More info on ProMariner:
Where are ProMariner battery chargers made?
Portsmouth, New Hampshire
What year was Professional Mariner (ProMariner) founded?