FREE U.S. SHIPPING ON ONLINE ORDERS!*
ProNautic Dry Mount Battery Chargers There are 10 products.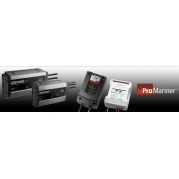 Industry recognized with the 2010 IBEX Innovation Award, ProNauticP employs ProMariner Generation 3 ProMar Digital Performance Charging Platform which combines all digital control and softwarebased power conversion technology with global energy management features. ProNauticP addresses the trend of incorporating and using more 12-volt electronics onboard today's power, sail, cruising and sport fishing boats. Boasting twelve digitally-controlled performance charging profiles with finger tip selection, ProNauticP fully charges, conditions, maintains and re-conditions batteries while extending battery life and maximizing battery reserve power performance.
e