FREE U.S. SHIPPING ON ONLINE ORDERS!*
FREE U.S. SHIPPING ON ONLINE ORDERS!*
Fortress Anchor There are 10 products.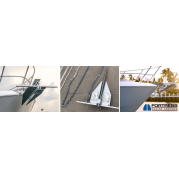 In test after test, from coast to coast and from around the world, no anchor in history has been called "The World's Best Anchor" by more boaters and respected marine experts than the Fortress anchor.
Years of research & development, high-tech materials and manufacturing, and thousands of real world tests are your assurance of performance, quality and value. The Fortress anchor weighs only half as much as heavier steel anchors, yet outperforms them all.