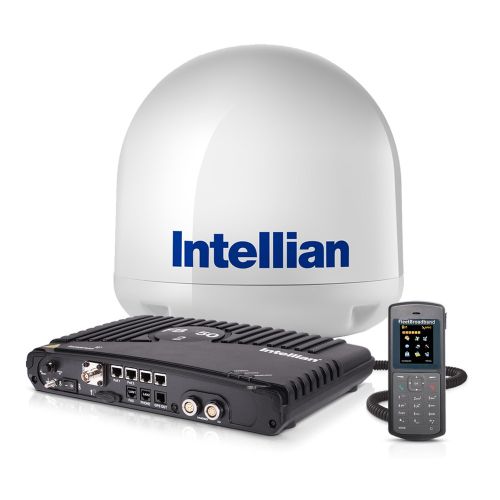 By buying this product you can collect up to 749 Citimarine points. Your cart will total 749 points that will be converted into a voucher of 74,90 $ towards your next purchase! Must be logged in to collect points.
Sistema de Antena FB250 con Domo i3 a juego
Sistema de antena Intellian FB250 con domo i3 a juego: Intellian FB250 brinda la oportunidad de ingresar al campo de la banda ancha para grandes embarcaciones comerciales, proporcionando todas las funcionalidades necesarias para los sistemas de grandes embarcaciones comerciales. Una baja inversión inicial y el precio por MB del servicio Inmarsat FleetBroadband reducirán el costo de comunicación a pesar del aumento en la funcionalidad y la frecuencia de uso. Los usuarios pueden estar seguros de que el diseño robusto y confiable diseñado para uso profesional significa que resistirá cualquier entorno marino hostil. Número parte: F3-3252.
Freight Shipping on this item*
Freight Shipping on this item*
Flat rate freight shipping in the US:

Commercial Address: 250,00 $ Residential Address: 320,00 $
Intellian FB250 Antenna System with Matching i3 Dome

Intellian FB250 enables the opportunity to enter the broadband arena for large commercial vessels providing all the required functionalities for large commercial vessel systems. A low initial investment and the per MB pricing of the Inmarsat FleetBroadband service will reduce the communication cost despite the increase in functionality and frequency of use. Users can be confident that the rugged and reliable design engineered for professional use means it will take on any harsh marine environment. 

The innovative true IP solution can provide number of benefits including:
Inmarsat's global broadband I4 satellite coverage

Simultaneous Voice and data service

Compact and reliable hardware powered by Thrane & Thrane

IP connection for e-mail and internet / intranet access including secure VPN

Data rates up to 284 kbps (up to 128 kbps for Streaming IP)

Competitive & customized Intellian Inmarsat airtime


Small Global Maritime Terminal
With 9 lbs weight and 11 inch height, Intellian FB250 is a compact FleetBroadband maritime terminal.

Data & Voice Simultaneous Access
With 284 kbps data rates, FB250 provides simultaneous access to data services, voice and text messaging.

Reliable Hardware
Powered by Thrane & Thrane FleetBroadband 250 solution, which has unrivalled experience in satellite communications. You can be confident of both the quality of the equipment and the support behind it.

Global Service Network
As a global solution, not only can you access anyone of Intellian's global distributors for service, but the Intellian FB250 also benefits from Thrane & Thrane's highly regarded network of Onboard Service Centres (OSC) over 40 locationsaround the world.

IP Handset
The rugged new plug-and-play IP Handset provides an intuitive user interface on a 2.2" TFT color screen and cutting-edge technology, such as a echo cancellation and noise suppression software ensuring excellent audio clarity.

Practical & Affordable Intellian Airtime
Intellian airtime package price starts as low as $56/month. Hardware and airtime bundle package is available with additional discounts. Airtime package details at: www.intelliantech.com/airtime
Especificaciones del intelectual FB250
Potencia - Pico (vatios)
150 vatios
Voltaje - Rango de entrada (voltios)
10-32 VDC
Garantía
2 años en piezas y 1 año en mano de obra
Política de devoluciones
Este artículo no se puede devolver y/o está sujeto a una tarifa de reposición según nuestra política de devoluciones.
Folleto
El manual del propietario
Manual de instalación
Guía rápida
Categorías
Entretenimiento | Receptores de satélite
Categoría antigua
RECEPTOR DE SATÉLITE

Reseñas
No hay reseñas de clientes en este momento.