FREE U.S. SHIPPING ON ONLINE ORDERS!*
FREE U.S. SHIPPING ON ONLINE ORDERS!*
Bases para Antenas Hay 85 productos.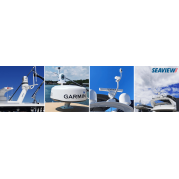 Seaview Mounts FAQ
Commonly asked questions about Seaview Marine Electronics Mounting Solutions
Do Seaview Mounts have a warranty?
Seaview warrants their products to be free from defects in materials & workmanship for 3 years.
What brands do Seaview Mounts support?
Flir, Furuno, Garmin, Intellian, KVH, Raymarine, Si-Tex, Simrad and more.