FREE U.S. SHIPPING ON ONLINE ORDERS!*
FREE U.S. SHIPPING ON ONLINE ORDERS!*
Seaview Mounts - Marine Electronics Mounting Solutions There are 105 products.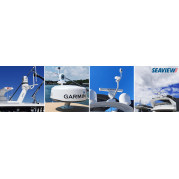 Seaview Mounts - Seaview is the global leader in mounting solutions for marine electronics. Seaview Mounts offers hundreds of installation options for optimal positioning of radars, satellite, GPS, VHF, cameras, searchlights and navigation lights. Seaview Mounts will not only provide unmatched strength and durability but look elegant, complementing the styling of your boat & provide a lasting investment.
Seaview Mounts FAQ
Commonly asked questions about Seaview Marine Electronics Mounting Solutions
Do Seaview Mounts have a warranty?
Seaview warrants their products to be free from defects in materials & workmanship for 3 years.
What brands do Seaview Mounts support?
Flir, Furuno, Garmin, Intellian, KVH, Raymarine, Si-Tex, Simrad and more.