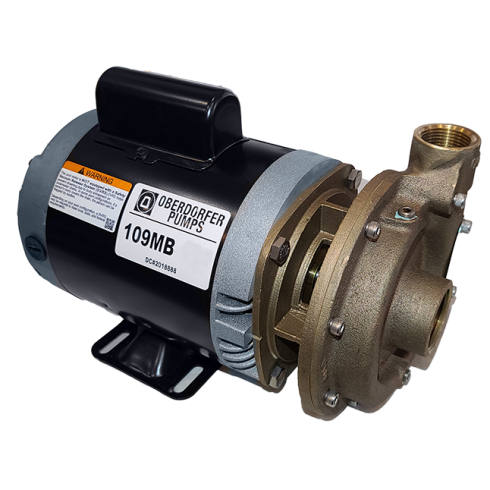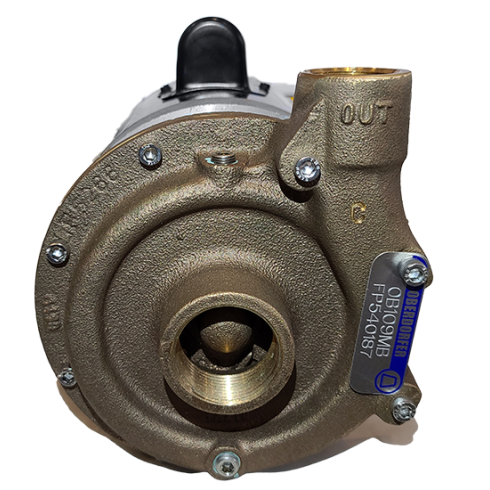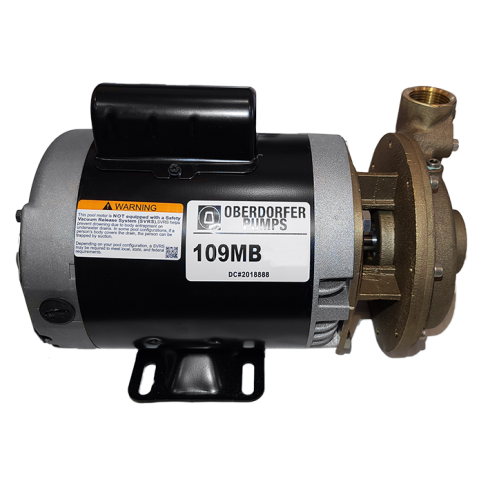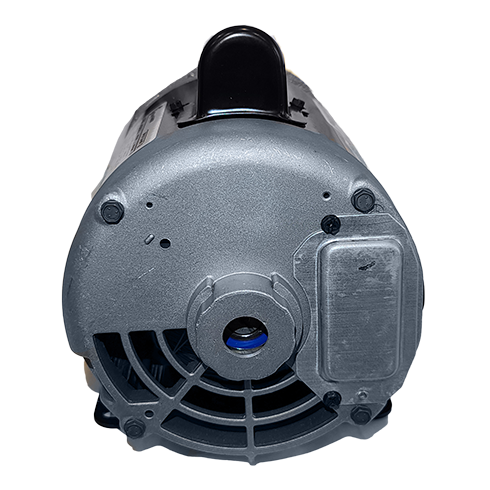 By buying this product you can collect up to 135 Citimarine points. Your cart will total 135 points that will be converted into a voucher of $13.50 towards your next purchase! Must be logged in to collect points.
Oberdorfer 109MB-10J36BJ Centrifugal Pump
Oberdorfer - 109MB-10J36BJ Centrifugal Pump with Motor - Inlet 1 1/4" - Outlet 1" - 60 GPM - 1/2 HP - 115/230V (50/60Hz) - 1 Phase - Mechanical Seal Type - 29 lbs Weight. All bronze or corrosion resistant aluminum construction. The mechanical seal is a carbon and ceramic mechanical rotary face type for positive sealing. Upgraded with 316 Passivated Stainless Steel Shaft. 
Part Number: 109MB-10J36BJ
Replaces Dometic Part Number: PH3000BXT - 225500272

Free US Shipping.

Reference:
OB 109MB-10J36BJ
Free Shipping on Orders over $99
Free Shipping on $99 Order
*On Orders Over $99; Not including: Hazardous, Oversize, Greater than (+150 lbs.) or Freight Advertised Products. FEDEX Ground Shipping / Continental US Only
Oberdorfer - 109MB-10J36BJ Centrifugal Pump with Motor - 60 GPM - Inlet 1 1/4" - Outlet 1" - 115/230V - 1 Phase - 1/2 HP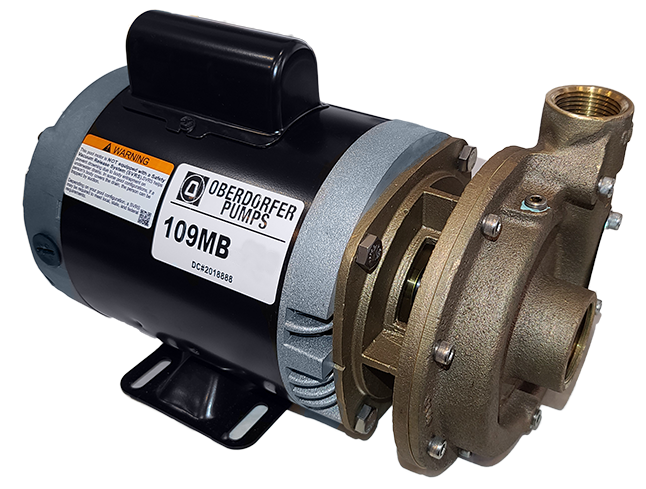 Oberdorfer™ centrifugal pumps have a single rotating metal impeller. Liquid enters at the center and is thrown outward radially by centrifugal force. The impeller is not in contact with other pump parts resulting in quiet, efficient, pumping action. The flow produced is not positive which permits the discharge line to be shut off completely without danger of overloading motors or bursting lines. Consequently a relief valve is not required. The liquid flow varies directly as the pump speed—the higher the speed the greater the flow. Horsepower required varies directly as flow and pressure. Maximum horsepower is required with a wide open discharge line. This is the point of maximum flow. With a throttled discharge, the flow decreases at a greater rate than the pressure increases thereby requiring less horsepower at the higher pressures. This is known as an "unloading" feature of the pump.
Features
Rugged Bronze Construction

A Standard in the Marine Air Conditioning Industry

Extremely Quiet Operation

O-Ring Housing seal eliminates gasket problems

Polytetrafluoroethylene (PTFE) Barrier Seal to protect motor bearings

Handles Contaminated Liquids

Discharge port orientation flexibility-8 positions

Mechanical Seal - Carbon/Ceramic, Nitrile - standard, Fluoroelastomer (S10) optional, Polytetrafluoroethylene (PTFE)(S11) optional

Pump Heads mount to standard footed Nema 56J Jet Pump Motors

Shafts: 316 Passivated Stainless Steel

Multiple motor options available

For Industrial Version - see Model 700 series
Liquids and Temperatures 
The special pump alloys used provide corrosion resistance to many liquids including water, water solutions, and a wide range of commercial chemicals. Questions as to the chemical compatibility of special liquids should be referred to the factory.
The pump uses a mechanical type shaft seal with a Nitrile rubber element. It is suitable for water, oils, and some mild solvents and it is limited to 212°F and 75 P.S.I. Fluoroelastomer (S10) seals and Polytetrafluoroethylene (PTFE) (S11) seals are available for severe solvents and difficult chemicals.
Viscous liquids with a maximum viscosity of 2000 Saybolt Seconds Universal can be pumped. However, when pumping viscous liquids as compared with water, a reduction in flow and pressure occurs and the required horsepower rate increases.
Liquids heavier than water require additional horsepower in direct proportion to the increase in specific gravity. Liquids contaminated with small solids or abrasives can be handled, but a reduction in mechanical seal life must be expected.
Drive
This close-coupled pump uses a standard NEMA C-Flange Jet Pump Motor with weld-on base and threaded shaft end to accept the pump impeller. Single phase motors are nonreversible and are wired for the proper pump rotation which is counter-clockwise looking at the inlet end of the pump. (See the dimensional drawing.) Three phase motors must be checked out for proper rotation when the pump is installed. Interchanging of any 2 wires in a 3-phase system will reverse motor rotation.
Suction Lift
These centrifugal pumps are not self-priming. They must be installed below the liquid level so that the liquid flows to the pump by gravity (flooded suction). However, if a foot valve is used at the beginning of the suction line and all air is bled from the pump by manual priming, the pump will lift on the suction side up to 15 feet. Such a system relies entirely on a non-leaking foot valve for starting capability.
Performance
Dimensions

Reviews
No customer reviews for the moment.