FREE U.S. SHIPPING ON ONLINE ORDERS!*
FREE U.S. SHIPPING ON ONLINE ORDERS!*
Magma Grills There are 117 products.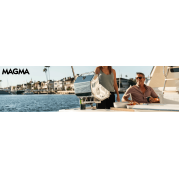 Magma Grills - The world's best grills on land or at sea. Magma has confidence that their products are of the very highest quality.
Magma Grills will enhance the enjoyment of your boating experience with products designed, tested and manufactured by boaters for boaters.
Free US Shipping on Magma Grills.
Magma Grills FAQ
Frequently asked questions about Magma Grills.
Where are Magma Grills manufactured?
How long have they been making grills?
What kind of grills does Magma make?
Gas, Charcoal and Infrared.