FREE U.S. SHIPPING ON ONLINE ORDERS!*
FREE U.S. SHIPPING ON ONLINE ORDERS!*
Ocean LED Underwater Lights There are 64 products.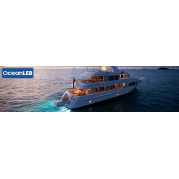 Ocean LED underwater lights started the marine LED revolution back in 2005 and are still to this day changing how boat owners light up the night. All Ocean LED underwater lights are designed specifically for purpose and therefore 'maximum efficiency' and 'product life cycles' are considered paramount right from the early concept stages up through to final production.
Ocean LED Underwater Lights FAQs
Questions about Ocean LED Underwater Lights
Ocean LED is one of the most popular and widely distributed marine lighting brand in the world. The UK-based company is for starting the marine LED revolution that lights up so many boats today.
What are the benefits of LED underwater lights?
LED lights last longer than any other available lighting solutions, require minimal power, output minimal heat and are more resilient to humidity, vibration and other aspects of a marine environment.