FREE U.S. SHIPPING ON ONLINE ORDERS!*
MasPower Marine Generators There are 8 products.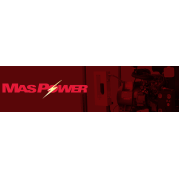 Mastry has provided a tradition of excellence in engine and powertrain applications for over 50 years. A recent acquisition by Yanmar, its major supplier, brought another 100 years of diesel engine manufacturing experience to the table. Mastry's MasPower Marine Generators, powered by Yanmar engines, are built to provide a dependable, quiet, compact and economical source of electric power to expand your boating experience.
e