FREE U.S. SHIPPING ON ONLINE ORDERS!*
FREE U.S. SHIPPING ON ONLINE ORDERS!*
Next Gen Marine Generators
Hay 3 productos.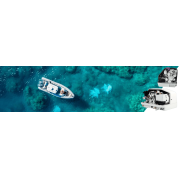 Next Gen Marine Generator FAQs
Commonly asked questions about Next Generation gen sets.
What unique benefits make Next Gen Marine Generators stand out?
Next Gen offers the most compact, low-profile and quietest 1800 RPM diesel marine generators on the market.
What are the advantages of 1800 RPM gen sets?
1800 RPM ensures quieter performance, more efficiency and longer life than 3600 or 3000 RPM generators.
What engine do Next Gen Generators use?
Next Gen generators use a Kubota diesel engine, same used in Cummins Onan and Phasor marine generators.
Where are Next Gen marine generators made?
Jacksonville, FL, USA and come with a 3-year warranty.