FREE U.S. SHIPPING ON ONLINE ORDERS!*
FREE U.S. SHIPPING ON ONLINE ORDERS!*
Infinity Marine Audio Sound Systems Hay 30 productos.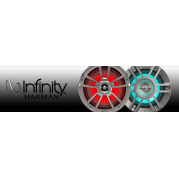 Infinity by Harman Marine Sound System FAQs
Frequently asked questions about Harman Infinity Audio Systems
Since 1983, Infinity has been part of Harman International Industries, which became a subsidiary of Samsung Electronics in 2017. Infinity produces a wide range of quality sound system components including multichannel surround sound home theatre packages, in-wall home speakers, and marine applications.
Is Infinity owned by JBL?
Both Infinity and JBL belong to Harman International Industries, subsidiary of Samsung Electronics.