FREE U.S. SHIPPING ON ONLINE ORDERS!*
FREE U.S. SHIPPING ON ONLINE ORDERS!*
Ocean LED Hay 49 productos.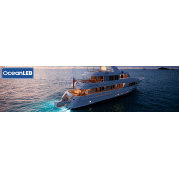 Ocean LED Underwater Lights FAQs
Questions about Ocean LED Underwater Lights
Ocean LED is one of the most popular and widely distributed marine lighting brand in the world. The UK-based company is for starting the marine LED revolution that lights up so many boats today.
What are the benefits of LED underwater lights?
LED lights last longer than any other available lighting solutions, require minimal power, output minimal heat and are more resilient to humidity, vibration and other aspects of a marine environment.