FREE U.S. SHIPPING ON ONLINE ORDERS!*
FREE U.S. SHIPPING ON ONLINE ORDERS!*
Lofrans' Windlasses Hay 13 productos.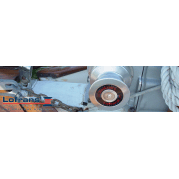 Subcategorías
Lofrans Windlass FAQs
Frequently asked questions about Lofrans Windlasses.
What are some strong points about the company Lofrans?
Lofrans is known for quality and reliability of its products. Thousands of boaters all over the world choose Lofrans for this reason, making them the most popular manufacturer of anchor windlasses
Why choose an electric windlass over manual?
You would choose a manual anchor windlass if looking for simple installation and low price. However, practicality and fast operation is the benefit of an electrical Lofrans windlass. Today, 95% of windlasses are electric.
When to use vertical Lofrans windlasses?
Vertical windlasses are more compact, with the electrical motor and gearbox under the deck. They are lighter and cost less. They're design is attractive and fits with every type of boat. Maintenance takes a bit more work than with horizontal Lofrans windlasses.
When is a horizontal windlass better?
While they take up more space and are a bit heavier, the horizontal windlass is the classic anchor windlass design - practical and useful. Installation and maintenance are easy, with the entire windlass installed above deck. They can be mounted in the anchor locked to take less space