FREE U.S. SHIPPING ON ONLINE ORDERS!*
FREE U.S. SHIPPING ON ONLINE ORDERS!*
Fortress Hay 38 productos.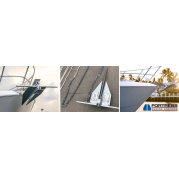 Subcategorías
Fortress Anchor FAQs
Commonly asked questions about Fortress and Guardian anchors by Fortress Marine
What is the difference between a Fortress Anchor and a Guardian Anchor?
Fortress Anchors are anodized, and have both 32- and 45-degree settings. Guardians are not anodized, and only have a 32-degree setting.
Are there differences in the warranties between the Fortress and the Guardian?
Yes, Fortress Anchors come with a Lifetime Parts Replacement Warranty while Guardians have a One Year Parts Replacement Warranty.
What are Fortress Anchors made from?
Fortress Anchors are made from hardened high-tech aluminum-magnesium alloy. Fortress FX models are anodized for an attractive and durable finish.
What happens if I damage part of my anchor?
Fill out Fortress Marine's Online Replacement Parts Form, or call them to request the new part. The warranty is Hassle Free, only cost being a small S&H charge.
Means the product receives a chemically bonded coating, giving the anchor greater corrosion resistance and a more appealing appearance.
Where are Fortress Anchors manufactured?
Fortress Marine is located and does all of its manufacturing in Fort Lauderdale, FL, USA.