FREE U.S. SHIPPING ON ONLINE ORDERS!*
More info
Reduced Size, Noise & Power Draw
The TurboVap (TV) series of direct expansion (DX) split-gas evaporators for boats is based on the revolutionary engineering advancements of the award-winning Turbo self-contained air conditioning system. TV units work with R-22 or R-417A condensing units.
Featuring a rust-free molded composite drain pan, condensate water is rapidly removed at one of two easy-to-plumb drain locations. The pan also has innovatively designed anti-slosh ridges and "positive flow" channels to ensure condensate does not spill even in the roughest seas.
For improved installation ease and flexibility, the blower can be rotated 270° with a single adjustment screw. The unit's unique inlet ring is designed to optimize air flow and ensure that the height of the unit does not increase when the blower rotates.
The TurboVap series' built-in cushioning system minimizes noise and vibration and the innovative mounting clips utilize vibration isolators.
Key Benefits
Up to 28% reduced amperage
Up to 85% reduction in standing water in the drain pan
Up to 14% increase in cooling capacity
Up to 15% lighter
Up to 17% reduction in height
Up to 19% increased air flow CFM
Rust-free composite drain pan
Drain pan features anti-slosh, "positive-flow" drain channels for no spills and rapid removal of condensate
Up to 15 minutes faster to install
Single adjustment screw for 270° of blower rotation
High-velocity (HV) fully-insulated blowers are rotatable
Vibration-isolation mounts reduce noise and vibration
115V and 230V models
Can be used with R-22 or R-417A condensers

Technical Specifications: 215413300
Capacity: (BTU/h) 10,000
Voltages @ 50/60Hz (V): 230
Cycle (Hz): 50-60 (Dual)
Phase (Ph): 1
Full Load Amps (FLA) Cool (A): 0.61
Height (in): 12.6
Height (mm): 321
Width (in): 14.3
Width (mm): 364
Depth (in): 10.4
Depth (mm): 265
Net Weight (lbs): 17.5
Weight (kg): 8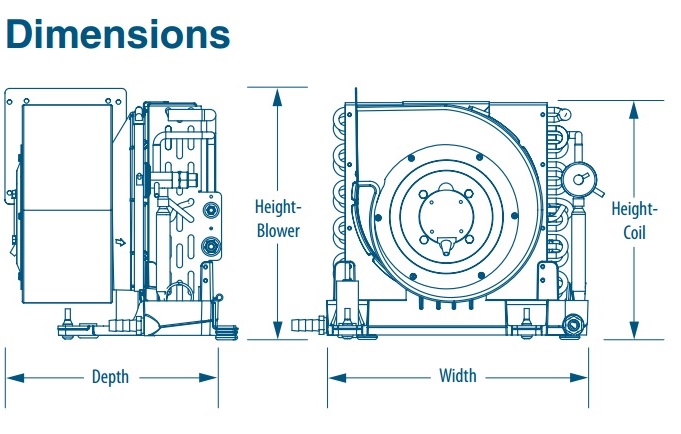 *The United States Environmental Protection Agency (EPA) has required that all persons handling refrigerants should be certified. Before shipping you the unit, we are required to verify your installer's certification, or you own, should you have certification.
e