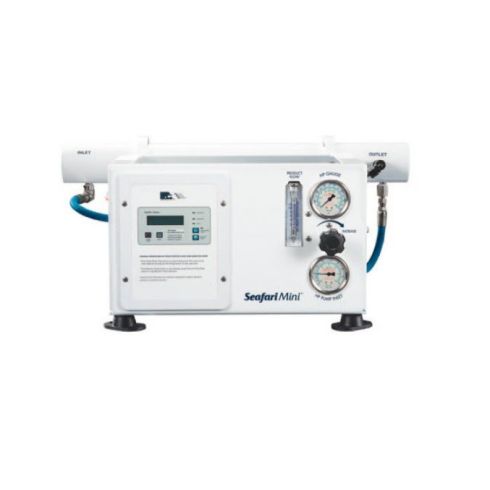 By buying this product you can collect up to 1016 Citimarine points. Your cart will total 1016 points that will be converted into a voucher of $101.60 towards your next purchase! Must be logged in to collect points.
Seafari Mini 550 GPD (Compact)
The Seafari Mini 550 GPD (Compact) is ideal for small sailboats or power boats that require space savings. 550 Gal/ 2.080 lts per day. 127 Lbs. /57 kgs.

Mfg #: H051C550

Freight Shipping on this item*
Freight Shipping on this item*
Flat rate freight shipping in the US:

Commercial Address: $250.00 Residential Address: $320.00
Seafari Mini 550 GPD (Compact)
The Seafari Mini watermaker offers a larger range of fresh water production without the space restrictions. The Seafari Mini is the perfect solution for boats with little space to spare. Offering the largest production capacity for its size, you can be sure to have plenty of fresh water, without wasting precious storage or engine room space. Compact.
23 Gal / 87 Lit per hour. 550 Gal / 2,080 Lit per day.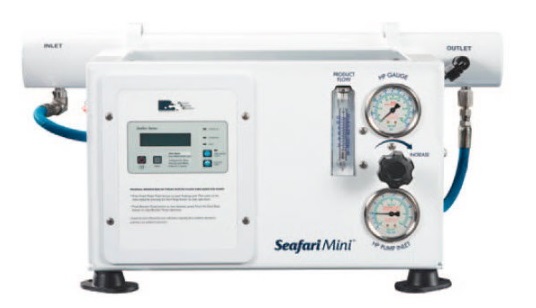 Features
-Extremely quiet, smooth, and with complete vibration isolation.
-Exclusive Solid Salinity Meter, an essential tool for product water monitoring.
-Space efficient, one of the smallest compact watermakers available.
-Simple Installation
-A failsafe Product Water Diversion Valve allows only safe drinking water to enter storage tanks.
-High rejection, high yield, commercial grade, and chemical resistant Membranes.
-Clear viewable Sea Strainer with a cleanable Monel Mesh Screen filter for ultimate corrosion resistance and large particulate removal.
-Exclusive high efficiency Booster Pump
-Micro Processor Controlled Electronics provide state of the art technology and reliability with weekly Automatic Fresh Water Flush Timing (optional).
-Stainless Steel, liquid filled exterior and interior Pressure Gauges for accurate measurement of system functions and corrosion resistance.
-Flow Meter for visual monitoring of the product water flow
-All High Pressure Connections are composite 316L Stainless Steel for maximum corrosion and rust resistance.
-Water Quality Indication LED
Specifications
Product Water Produced / Hour    +-15% 850 psi / 56 Bar, 77 F / 25 C & 35,000 ppm TDS typical sea water
Salt Rejection (Chloride Ion)    Minimum 99.2%, Average 99.4%
Product Water Temperature    Ambient to feed water temperature
Salinity Monitoring    The salinity monitoring components of the system give a continuous readout in micromhos per cubic centimeter, are temperature compensated, and of a fail safe design.
Salinity Range    Designed for seawater use up to 50,000 ppm TDS (Nacl) (typical seawater salinity is 35,000 ppm.)
Temperature Range    Min. 33 degrees F / .5 degrees C Max. 122 degrees F / 50 degrees C
System Feed Water Flow    50Hz, 3.5 gpm / 13.2 lpm; 60Hz, 3 - 4.2 gpm / 11.4 - 15.9 lpm
Reverse Osmosis Membrane    High Rejection/High Yield aromatic tri-polyamind, thin film composite, spiral wound, single pass reverse osmosis membrane element.
Chlorine Tolerance    0.1 ppm
pH Range    3-11 (typical seawater pH is 8)
Dimensions (L x W x H)    
Weight    125 lbs / 57 kg.
System Pressure
Feed Water Minimum    6 psi / .41 bar / .42 Kg/cm2
Feed Water Maximum    35 psi / 2.41 bar / 2.46 Kg/cm2
System Operation    Seawater @ 35,000 ppm & 77° F / 25° C
Nominal: 850 psi / 56.5 bar / 57.66 Kg/cm2. (Brackish varies w/ppm)
Feed Inlet    3/4" MNPT (Male National Pipe Thread, Amer. Std)
Brine Discharge    1/2" FNPT (Male National Pipe Thread, Amer. Std)
Product    3/8" FNPT (Female National Pipe Thread, Amer. Std)
Mini 550 GPD Compact:
Pump    Phase    Hz    Voltage    HP    Running Amps    Start Up Amps
HP    Single    50/60    110/220//
115/230    1.75//2.1    18.9/9.4//
18.2/9.1    57/28
Booster    Single    50/60    110/220    0.5    9.4/4.7-
7.4/3.7    28/14
Dimensions



Reviews
No customer reviews for the moment.