Fusion MS-RA770 Apollo
Fusion MS-RA770 Apollo (aka Fusion RA770) Touchscreen Marine Stereo w/ Built-In Wi-Fi - 4.3" glass touchscreen display, WIFi and Bluetooth streaming, digital signal processing, AM/FM, AUX / USB / Optical / Sirius inputs. IPX7 Waterproof. PartyBus mode allows multiple sources to play in different zones. MFG# 010-01905-00. *Free US Shipping!

Fusion MS-RA770 Marine Stereo - The New Era of Marine Audio Entertainment
Welcome to a new era of marine stereo entertainment, crafted and engineered by Apollo - the God of Music. The world's first touchscreen marine stereo with built-in Wi-Fi, the Fusion RA770 has redifined audio excellence with revolutionary technology and innovative design including Fusion's Digital Signal Procesing, PartyBys, over-the-air software updates, a one-piece glass display and more source oprtions than never before. The future of marine audio entertainment has arrived.

The Apollo Series combines engineering and design never seen before in the marine industrym forever changing the face of marine audio entertainment and becoming the standard by which all others will be shaped.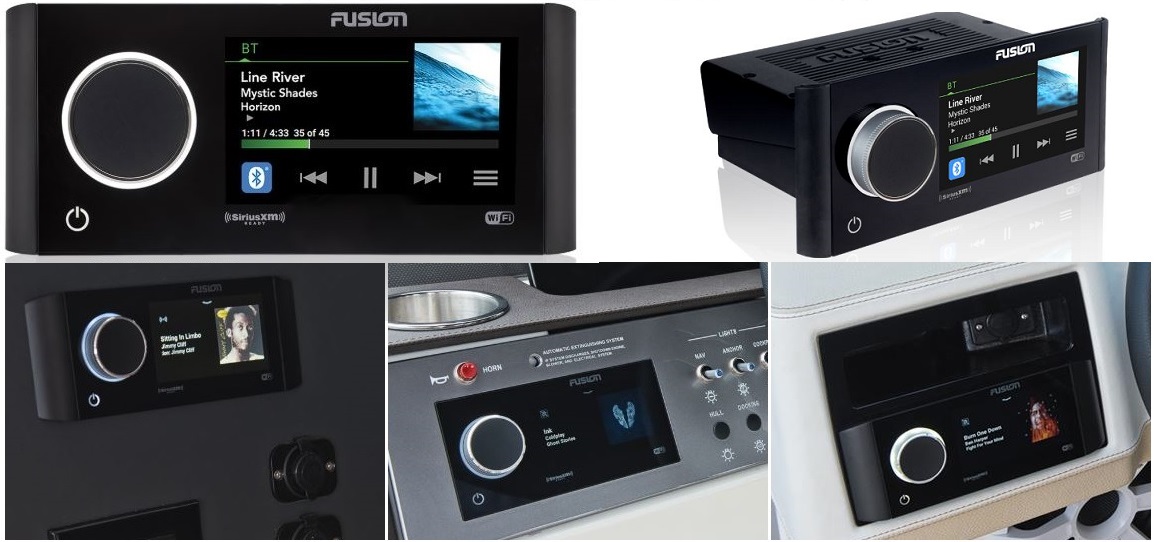 Specifications:

Display

4.3" capacitive touch glass LCD color display
Widht (A)

7.56 in / 192.0 mm
Height (B)

3.23 in / 82.0 mm
Dimension (C)

0.80 in / 20.4 mm
Dimension (D)

3.90 in / 99.0 mm
Dimension (E)

1.97 in / 50.0 mm
Dimension (F)

6.50 in / 164.0 mm
Dimension (G)

0.39 in / 10.0 mm
Speaker Presets (easy to tune)

Yes
Fusion-Link Control (Wireless)

Yes
PartyBus Technology

Yes (receive and broadcast - wired or wirelessly)
Speaker Presets (easy to tune)

Yes
Peak Power

280W max
Auxiliary Inputs

2 x RCA Inputs (AUX1, AUX2)
Operating Voltage

+10.8 - 16V dc
USB 2.0 Port

One USB 2.0 port (for phone charging / media playback)
Works with NRX Remotes

Yes
Speaker

4 x speaker connections (2 zone amplified)
Line Out

4 (1 x L + R per zone. Requires external amplification)
Subwoofer Out

4 (1 per zone. Requires external amplification)
AM/FM radio

One Motorola antenna connector port
Optical Input

1 x Digital Optical Input (SPDIF)
Financing Available on this Stereo
Estimated monthly payment with 24 month financing.
*Based on credit approval.
More info
Pay over time with monthly payments.
APR, loan limit and payment periods available will be based on credit score
APRs available range from 0% to 17.99%, payment periods from 6 to 24 months and the max loan limit is $10,000
Select from different payment periods (e.g. 6 months, 12 months, 18 months, etc.)
Running the pre-approval process in order to determine what payment terms are available will not affect your credit score (soft pull)
Run Pre-Approval Here!



Features of the Fusion Apollo RA770
World's First Marine Wi-Fi Stereo

High quality audio streaming is now available via Wi-Fi, delivering a higher data transfer rate in comparison with Bluetooth. Enjoy perfectly synced music throughout your vessel by wirelessly connecting multiple Apollo stereos via PartyBus.
Fusion Digital Signal Processing (DSP)

The power of Fusion DSP enables the optimization of Fusion speakers in each audio zone on your vessel, giving you premium audio delivery to all Fusion speakers in any enviroment. Every step of the audio chain is optimized through calculations by engineers to deliver a technically superior listening experience.
World's First Touchscreen Marine Stereo

The Apollo RA770's premium glass touchscreen display is flawless edge-to-edge. A world first for marine stereos, the captive touch screen gives you a familiar user experience aligned with your personal smart devices. Simply tap or swipe the screen for stereo control witouh the hassle of trying to locate the right buttom.
Fusion-PartyBus

PartyBus is Fusion's audio distribution network of the future. The power of PartyBus kicks in when you add more PartyBus enabled stereos to your entertainment system. Each additional PartyBus-enabled stereos gives you the option to join Party Mode and play the same perfectly synced audio source through the vessel.
More Audio Source Options Than Ever Before

The Apollo Series offers more audio source options than ever before, giving you the freedom of choice to listen to what you want, how you want, wherever you are on your vessel. Take advantage of the many options provided, including Bluetooth audio streaming, UPnP, Optical Audio, AUX, and USB connections.
IPX7 Water Resistant Front Panel

Built on Fusion's True-Marine design philosophy, the Apollo RA770 has an impressive IPX7 rated water resistant front panel, and had been tested to a high level for protection against salt fog, temperature, vibration and UV protection.
Multi-Zone Technology

Four independent audio zones are available for a customized listening experience across your vessel, each with advanced localized menu controls including volume limits, zone naming, disabling zones and more.
Over-The-Air Software Updates

The Apollo Series is intelligently simple and always up to date, thanks to the over-air-software updates available from your smartphone or compatible device via the free Fusion-Link app.
Fusion-Link

The industry standard protocol for on-water audio integration and control, Fusion-Link enbales control of your entertainment directly from partnered marine Multi-Function Displays, compatible Apple or Android devices via the Fusion-Link app, and Garmin watches via Fusion-Link Lite.
Black Front Face

Providing uniformity across the helm, the black front face blends seamlessly into black glass panels, complementing other electronics and MFDs for a tidy, uniform and elegant installation.
More Fusion MS-RA770 / Fusion Apollo Media
More information on the Fusion Apollo MS-RA770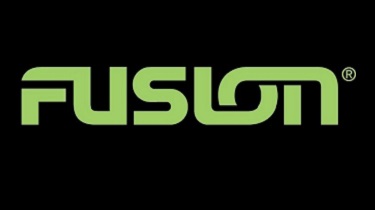 About Fusion Entertainment
Fusion Entertainment Ltd was founded in New Zealand in 1998 as a home grown car audio brand, grown out of the Founder's passion for cars, music, and the surrounding street culture.
See More
FUSION Entertainment is world-renowned for engineering innovative audio solutions that are enjoyed around the globe by the most prestigious boat designers and manufacturers. A FUSION entertainment system has become the measure of quality; chosen by those who appreciate acoustic excellence and demand superior environmental protection.
By Approaching every market from the perspective of their customers, Fusion has levereged more than a decade of growth, expertise and experience to bring you a world-class innovation that truly improves any watersport activity.
Fusion Apollo Series - The God of Music
Fusion is proud to be leading the way in marine stereo entertainment. Building on their industry recognized True-Marine design philosophy, the new Apollo Series will forever change the face of marine audio entertainment and set a new standard by which all others will be created.
See More
Combining creative design with technological brilliance, the RA770 is the flagship of the Apollo Series. As the world's first purpose-built marine entertainment system featuring built-in Wi-Fi and a touchscreen display, the RA770 takes marine audio entertainment to the next level.

Hanessing the power of Fusion DSP, the Apollo Series ensures preimum audio is delivered to all speakers in any environment for the pinnacle of sound quality.
Warranty and Liability On Your Fusion MS-RA770 Marine Stereo
The limited warranty for the FUSION product purchased extends to 36 months beginning on the date of purchase of the product.
The limited warranty extends only to consumers who purchase the product in one of the countries (or areas) set forth on www.fusionentertainment.com. The limited warranty is only valid in FUSION's intended country (or area) of sale of the product.
During the limited warranty period, FUSION or its authorised service network will repair or replace (at FUSION's discretion), any defective product or parts thereof with new and return the product to the consumer in working condition. No charge will be made to the consumer for either parts or labour in repairing or replacing the product. All replaced parts and cosmetic parts should be free of defects at the time of shipment and, therefore shall not be covered under these limited warranty terms.
Repair product will be warranted for the balance of the original warranty period or for ninety (90) days from the date of repair, whichever is longer.
All warranty claims must be accompanied with a copy of the warranty card, and a copy of proof of purchase.
The consumer shalll have no coverage or benefits under the limited warranty if any of the following conditions are applicable: The product has been subject to: abnormal use, abnormal conditions, improper storage, unauthorised modifications, unauthorised connections, unauthorised repair including but not limited to use of unauthorised spare parts in repairs, misuse, neglect, abuse, accident, alteration, improper installation, acts of God, spill of foods or liquids, maladjustment of customer controls or other acts which are beyond the reasonable control of FUSION, including deficiencies in consumable parts such as fuses, and breakage or damage to antennae unless caused directly by defects in materials or workmanship, and normal wear and tear of the product.
FUSION was not notified by the consumer of the alleged defect or malfunction of the product during the applicable limited warranty period.
The product serial number or the accessory date code has been removed, defaced or altered.
The product was used with or connected to an accessory not supplied by FUSION or fit for use with FUSION product, or used in a manner other than its intended use.
The benefits conferred by this warranty apply to the extent that they are not superseded by any other rights and remedies available under any applicable legislation that cannot be excluded. In jurisdictions where implied or legal warranties may be excluded, any implied or legal warranty is hereby excluded and the foregoing warranty is the purchaser's sole and exclusive remedy and is in lieu of all other warranties, express or implied.