CTM EV-10 10,000 BTU Evaporator - Marine Split A/C Unit - 115V - 50/60HZ
50/60 Hz

Dual Frequency

Cooling or Heating

Reverse Cycle

R410A

Refrigerant

2-Year

Warranty
Free US Shipping
CTM EV-10 Evaporating Unit - 10,000 BTU Split Marine Air Conditioning Unit - 115V - 50/60HZ
10,000 BTUs of powerful, quiet, and efficient cooling. 115V. Stainless steel bolts and stainless steel structural pan ensure long-lasting, corrosion-proof evaporator / air handler performance in even the toughest of marine environments. 2 Year Warranty*. Patent Pending S/N 63/104189.

The quiet, powerful, and efficient CTM Marine Evaporator Unit is a great option for new installs but also works as the perfect drop-in replacement for all major marine A/C brands including Dometic, Marine Air, and Cruisair.


CTM has taken nearly a decade of experience as a top-selling marine A/C retailer in the US, and combining this with an understanding of the wants and needs of marine A/C customers — as well as where other major brands could be improved — CTM has created a split marine condensing unit that raises the bar on quality and performance.
By using R410A refrigerant, CTM engineers guarantee maximum cooling performance while meeting all international standards of clean air.
Specifications: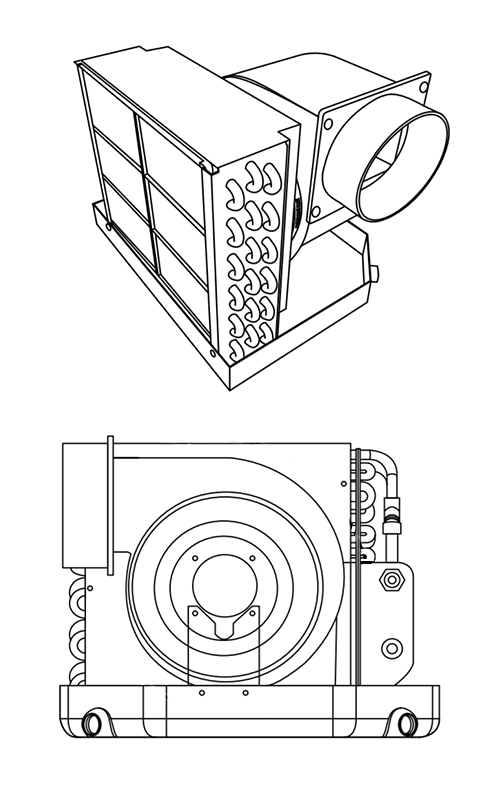 Capacity

10,000 BTU
Voltage

100-120 V
Cycle

50-60 Hz
Refrigerant Type

R410A
Blower Airflow

350 CFM
Blower Speed

1200 RPM
Phase

1
Input rotor Amps

1.5 A
Locked Rotor Amps

60 A
Fuse Max.

5A
Discharge Connection Size

(1/4 in) / (6.35 mm)
Suction Connection Size

(3/8 in) / (9.52 mm)
Blower Duct Size

5 in
Suggested Water Flow

250 GPH
Net Weight

19.84 lbs / 9 kg
Estimated monthly payment with 24 month financing.
*Based on credit approval.
More info
Pay over time with monthly payments.
APR, loan limit and payment periods available will be based on credit score
APRs available range from 0% to 17.99%, payment periods from 6 to 24 months and the max loan limit is $10,000
Select from different payment periods (e.g. 6 months, 12 months, 18 months, etc.)
Running the pre-approval process in order to determine what payment terms are available will not affect your credit score (soft pull)
Run Pre-Approval Here!
Features of the CTM EV-10


Compact Design

Perfect drop-in replacement for all major marine A/C Brands. It's compact design makes it the perfect unit for small spaces.
Reusable Filter

Circulate clean air with reusable air filter. Remove, wash down, and put it back.
Quiet

No loud compressor noises thanks to the vibration isolation bases on under the compressor.
Stainless Steel Frame Base

Corrosion-resistant stainless steel frame base will not rust or fall apart. Long-lasting and made to withstand the harsh marine environment.
Dimensions: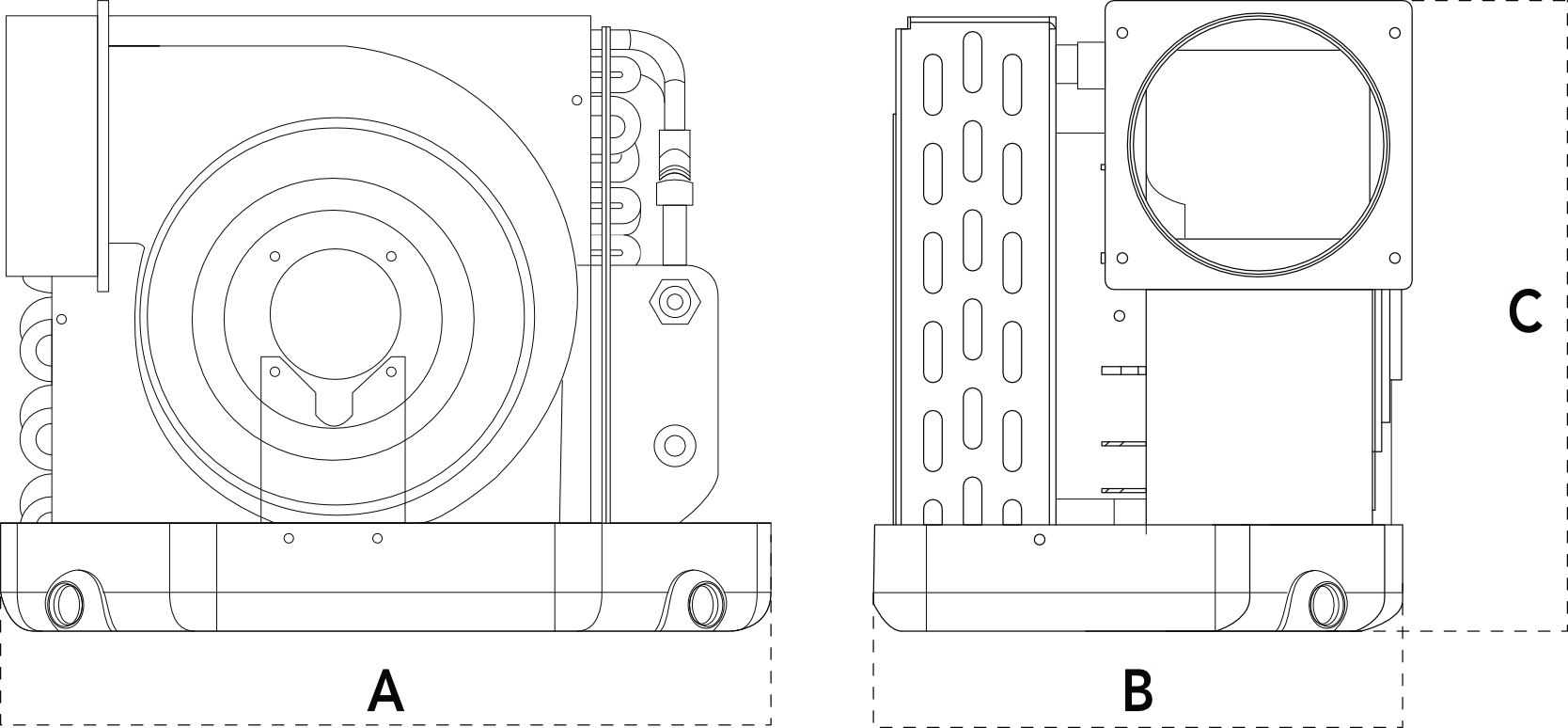 A - Width

16.1 in / 410 mm
B - Depth

10.7 in / 273 mm
C - Height

13.4 in / 340 mm
Compatible with Most Thermostats

More information on CTM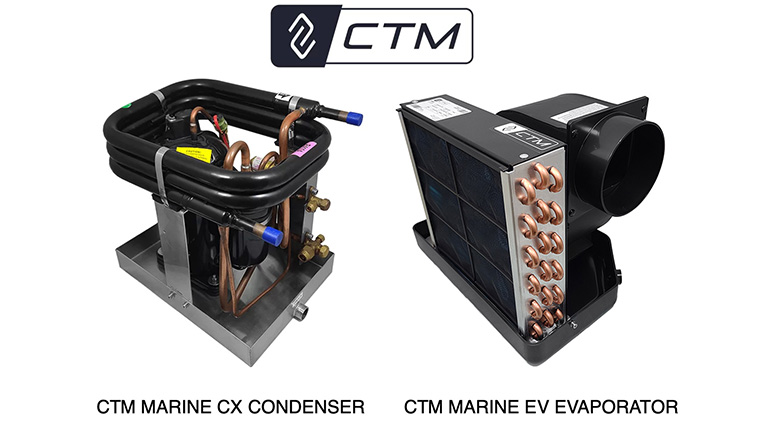 CTM CX & CTM EV – CTM Marine Split Gas Air Conditioning System
CTM Marine has taken 10+ years of experience selling marine air conditioners, combined with feedback received from customers on their units over the years, and has produced the all-new, CTM CX & CTM EV split gas marine air conditioning system, superior to anything available on the market.
Read More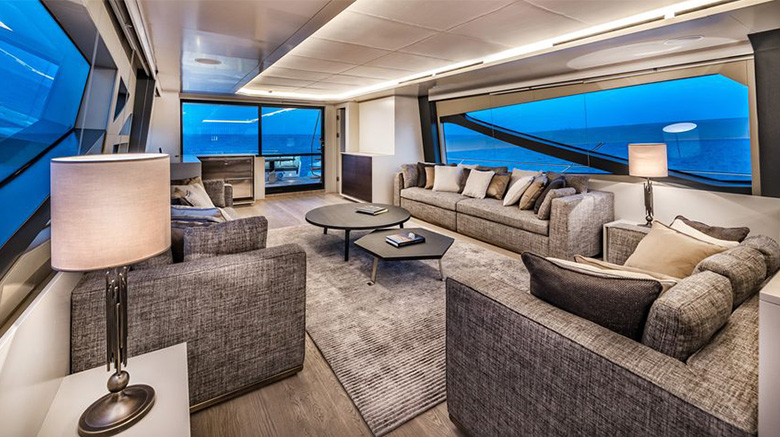 Best Marine Air Conditioners? Best Brand, Support & Warranty?
Boaters often wonder which brand makes the best marine air conditioners when looking to install a new unit.
To be honest, most marine air conditioners from all the major brands are solid and will do the job, as long as they've been installed correctly. However, the keyword here is most. You want to improve your odds of being satisfied with your A/C purchase by researching which company's units have the least number of complaints… and if there is a problem, how that company handles it.
Read More
Notes if replacing a Dometic TVE
The CTM EV-10 115V Marine Air Conditioning Unit works as an excellent replacement for the Dometic TVE. There are some specs that should be taken into consideration when replacing one of the units previously mentioned. It is also a good replacement unit for the TV10 models, but in this case, you will need to replace the whole system (being that they use R22 / R417A gas and the CX unit and EV evaporators use R410A).

- Waterline connections should be the same as the unit you are replacing, the TVE unit has a standard 5/8" water connection.

- Dimensions wise the CTM EV is very similar to the above-listed Dometic and Cruisair split gas units, so there shouldn't be any issues when replacing your current unit with the EV. However, it is recommended that you double-check your current installation space and the CTM EV's specs in order to avoid any issues when installing.
Warranty

The warranty period of registered CTM products is (2) two years, being the first year parts and labor, the second year parts only. For unregistered CTM products (1) one year, being the first 6 months parts and labor, and the last 6 months parts only. The warranty period of CTM products begins from the date of purchase (if purchased through a dealer or distributor), when installed (if installed by an authorized CTM dealer) and/or at the time of possession of the vessel by the owner (for OEM installations). However, the warranty period shall not exceed (3) three years from the original manufacture date. CTM products include a serial number which is date-coded, in order to determine the manufacturer date of the product, you may contact CTM's customer service to obtain the original date.


In the event there is an extended period of time between the date a CTM product is manufactured and the moment that the product goes into service, CTM will require proof of purchase. For unregistered products, a proof of purchase will be required as well.
For more detailed information please download the Manual and refer to page 17.