FREE U.S. SHIPPING ON ONLINE ORDERS!*
FREE U.S. SHIPPING!
Online Orders Only*
More info
Shakespeare Mariner 8700

The Shakespeare Mariner 8700 Extra Tough 8' 6 DB VHF Antenna is a classic styling and an upgraded fiberglass radome bring durability, stiffness and reliability to your radio needs. Brass and copper 5/8 wave elements boost range and efficiency, stainless steel ferrule and 20' RG-8X low loss cable boost your signal strength. The long-lasting construction and finish keep the antenna working and looking great-for at least five years, guaranteed.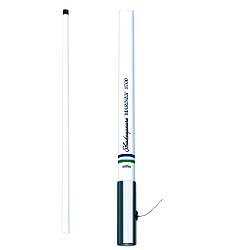 Features of the Shakespeare Mariner 8700
Application: Marine VHF
Gain: 6dB
Length: 8'
Material: Fiberglass w/polyurethane finish
Elements: Brass and copper
Base Type: Mirror-finished stainless steel ferrule w/1"-14 threads
Lead: 20'RG-8X Coax, PL-259
Warranty: Five years
e