FREE U.S. SHIPPING ON ONLINE ORDERS!*
FREE U.S. SHIPPING ON ONLINE ORDERS!*
CIP Composite Marine Shaft Bearings There are 8 products.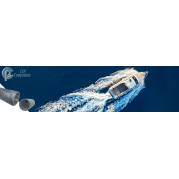 Vessel operators are looking to marine composite bearing solutions to perform in a wide variety of conditions and applications. From water lubricated bearings as replacements of existing rubber, other plastics, or wood products, to high

greased bronze materials

operating above and below the water line. These bearings are used by Viking Yachts and Jarrett Bay . Free US Shipping!