FREE U.S. SHIPPING ON ONLINE ORDERS!*
FREE U.S. SHIPPING ON ONLINE ORDERS!*
Lowrance Marine Radars There are 4 products.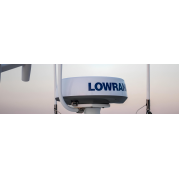 Lowrance Marine Radars give you the clearest picture of the surroundings for safe navigation in conditions of limited visibility. The line of radars is easy-to-use and is ideal for any fishing boat. The r

evolutionary HALO pulse compression on Lowrance Marine Radars deliver industry-leading 360-degree sweeps every second at close range, for the ultimate in collision avoidance of stationary and fast-moving targets.