FREE U.S. SHIPPING ON ONLINE ORDERS!*
FREE U.S. SHIPPING ON ONLINE ORDERS!*
Lumitec Flood Lights There are 29 products.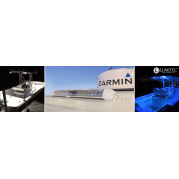 Lumitec Flood Lights - Powerful & efficient LED marine flood lights by Lumitec. Flush, semi-recess, surface & pole mount flood lights. High-powered, dimming, dual-color and more.
Lumitec Flood Light FAQs
Frequently asked questions about Lumitec Flood Lights
How powerful are Lumitec's flood lights?
These are top of the line LED flood lights, as strong as anything else on the market. While there are a variety and different options, up to 50,000 Lumens!
Do you offer free shipping?
Yes, we offer free shipping on all Lumitec floodlights