FREE U.S. SHIPPING ON ONLINE ORDERS!*
Masterflush 7000 There are 4 products.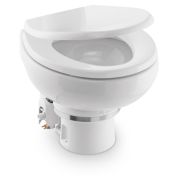 The MasterFlush 7000 Series is aesthetically pleasing, has efficient macerating technology, is practical and importantly comfortable, yet is all about saving space. These clever toilets are designed with small boats in mind and can accommodate any plumbing angle due to the smart Orbit 360° technology of the rotating base. Available in a standard height or a low-profile, they maximize any space.
e