FREE U.S. SHIPPING ON ONLINE ORDERS!*
Headhunter Royal Flush Toilets (Marine) There are 6 products.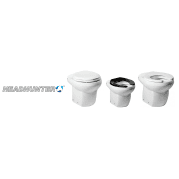 All Headhunter Royal flush toilets are built around a simple, no nonsense, water jet macerator. Pressurized water is accelerated through a jet to macerate and discharge the waste. There are no complicated mechanical sewage devices to maintain.
e