FREE U.S. SHIPPING ON ONLINE ORDERS!*
FREE U.S. SHIPPING ON ONLINE ORDERS!*
Tides Marine Spare Seal Carrier Kits There are 9 products.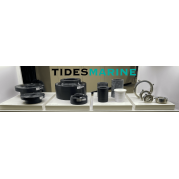 Tides Marine's Spare Seal Carriers are a convenient device for storing spare lip seals on the propeller shaft between the SureSeal / StrongSeal and the propeller shaft coupling. The SureSeal / StrongSeal design allows you to replace worn lip seals in the housing with these spare lip seals without uncoupling the shaft from the transmission - even while in the water.
The spare lip seal carrier is a lightweight, two-piece composite housing which is clamped over the spare lip seals and onto the propeller shaft, available in both imperial and metric sizes.
Subcategories